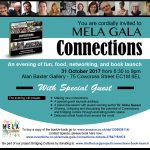 As a friend of MELA Social Enterprise's mission to bridge cultures through the creative design and use of public spaces, we are inviting you to help us crowdfund for our latest book Connections: 12 approaches to relationship-based placemaking here.
We are raising £3500 to make sure we further our mission by getting our book Connections in to more hands. Hear from our Founding Director, Dr Noha Nasser, how the book aims to make a difference here.
In the book, we explore different ways we can get people talking, re-build trust, dispel prejudices, and form new creative relationships. Twelve MELA Associates have come together to co-write the book and to share our knowledge, experience, methods, projects and approaches to cultural diversity, social cohesion and placemaking.
At our book launch on 31 October we are putting our methods to the test. We are inviting you and people from the community, cultural, academic, public and private sectors to generate new connections and outlooks along common themes. This will be the start of new cross-sectoral relationships and creative collaborative working to build new Connections across cities.
Your donation, no matter how big or small, will help MELA further its reach and impact.
And here are some amazing perks for supporting us:
£5 = A HUGE thank you from us by email
£20 = A mention in our programme on the day and on our website
£50 = A copy of our e-book and mention in our programme and website
£100 = A signed hard copy of our book and a mention in our programme/website
£150 = A signed hardcopy of our book, a mention in programme and website, a free 1 hour consultation with our MELA Associates to support similar ideas you may have
£500+ = all the above and a free half day webinar/workshop with MELA Associates to support similar ideas you want to develop
A BIG THANK YOU FROM THE MELA ASSOCIATES.
Upcoming MELA Gala Book Launch
Please come along to our evening of fun, food, networking and book launch on 31 October, 6.30-9.00pm in Alan Baxter Gallery, 75 Cowcross Street EC1M 6EL. You can register your place here.