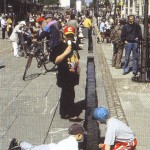 MELA works alongside people to creatively co-design public spaces that are safe, fun and convivial. Our expertise is in engaging with culturally diverse communities in creative ways to empower change, leadership, and collaboration, to address the root causes of conflict and to build community cohesion. We are also thought leaders in social innovation for social cohesion, researching the role of 'place' in meeting the social and cultural needs of diverse communities and their identities.
MELA works in a number of different ways:
• Thought leadership and research: we develop ideas, research and evidence to understand the root causes of conflict and develop practical approaches to strengthen community cohesion
• Collaborative Design: we work with clients in the public, third and private sector, communities, and built environment professionals to seek effective, innovative, and creative design solutions for convivial and safe public spaces
• Intercultural Strategy and Masterplanning: we use a wide range of methods and tools to engage with a place and its communities to understand the underlying causes of conflict and to develop positive design solutions and intercultural policies
• Community Building: we provide tailored project-by-project expertise to facilitate and mediate between communities, network them in new ways,  and advise on more effective and innovative design decisions for public spaces.