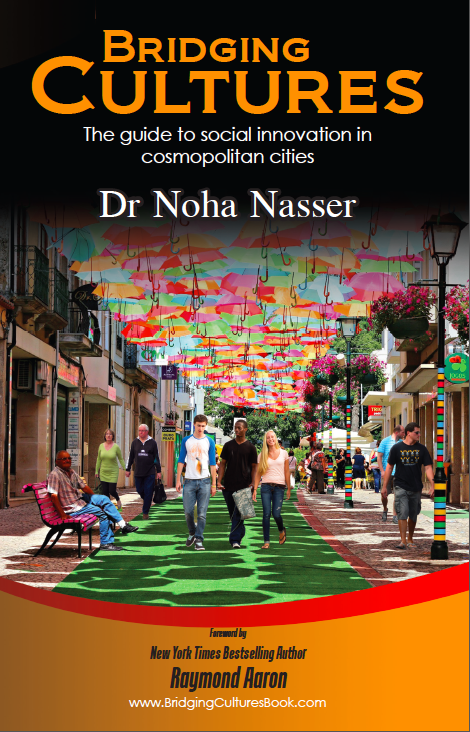 BRIDGING CULTURES Social Innovation in Cosmopolitan Cities
Dr Noha Nasser
What is social innovation?
Innovative activities and services that are motivated by the goal of meeting a social need and that are predominantly developed and diffused through people, organisations and the public sector whose primary purposes are social. (Mulgan et al., 2007)
What is this book about?
Bridging Cultures showcases people's creative innovations in cosmopolitan cities. At the heart of this book is the message that public space provides a critical setting for intercultural encounters. Streets, squares, parks and markets provide the right social conditions to tackle prejudices and build tolerance. With the aid of light-touch choreography public spaces become arenas of intercultural mixing.
Bridging Cultures isn't just a nice idea. Social cohesion and diversity are the corner stones of competitive, creative, healthy, and happy cities. The case studies in this book show that social innovation is at the heart of social cohesion. All across the world the power of civic action is generating inspiringly bright ideas to reactivate public spaces. Trust, co-creation, and intercultural exchanges result.
Bridging Cultures is the ideal guide for mayors, public authorities, housing providers and citizens passionate about re-activating public spaces with the creative pulse of interculturalism.
The book is available on Amazon and www.BridgingCulturesBook.com