Have you ever thought about the value of your social networks?
Those people that opened doors for you; who supported you in making things happen?
This is what I would like to focus on…
How do social networks that BRIDGE between cultures make a SIGNIFICANT impact on social integration?
There is plenty of research that shows that 'social relationships matter'; that 'social networks are a valuable asset'. In fact, the greater our web of ties to people OUTSIDE our social group the higher are our life chances and social mobility, and even our well-being.
In short, we are more plugged in to society.
That is why the approach we take at MELA focuses primarily on how to build these social networks that bridge between cultures. Because we know that interaction enables people to build communities, to commit themselves to each other, and to knit the social fabric. In fact face-to-face encounters are the only way to build trust and tolerance.
Our approach always starts with identifying the divisions or silos that keep 'knowledge' of other people flowing in closed loops. If we begin thinking about how we link these loops together we can create an exponential impact on society as a whole. We are particularly interested in those meeting points. The public places where these encounters happen. It could be the street market, the library or the leisure centre. Then we begin to think how we can animate these spaces in ways that encourage intercultural conversations? Activities like sharing food, experiencing world music or team sports can engage people of different ages and backgrounds.
But it is not enough to think locally.
Cities have a responsibility to ensure their citizens are plugged in and are economically included, healthy, and safe.
But what we've found is that cities can't deliver these outcomes alone. They need organisations – like MELA – to partner them because we are making a difference on the ground. That's why we have set up 'Bridging Cultures Roundtables' in core cities. Our aim is to bridge between city leaders and local social innovators. And network them with the corporate and cultural sectors.
One recent example has been in Bristol. For the first time neighbourhood-based cultural organisations are being networked with those in the city centre.  Our aim is to share bridging cultures good practice but also to create the business case for the corporate sector to engage.
And cities can also benefit from networking internationally.
To scale up the impact of the Roundtables we are now working with the Council of Europe's flagship programme, the Intercultural Cities Network. Our aim here is to share social innovations across its 100 member cities.
And it's not just Europe, the most exciting news is that MELA has been invited to Jerusalem next month to network social innovators to scale up their impact in their city.
In conclusion, social networks are valuable. If we want our cities to be socially integrated we have to start with building those social networks that bridge cultures wherever we can. I invite cities to partner and nurture their social innovators – we are key partners in making social integration happen.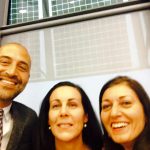 Posing with Deputy Mayor of Social Integration, Matthew Ryder