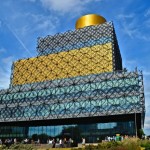 Since the refugee crisis and the attacks in Paris and Brussels the media has been dominated by slogans of war. The portrayal of an enemy out there, separate from us, has given justification to tackle violence with violence. But in a world where there is an unprecedented cultural mixing; where people from all nations and faiths now live in the same city, the same neighbourhood, and the same street, is it possible to separate between 'us' and 'them'?
Bridging Cultures is a series of roundtables calling on an alternative approach to dealing with the lack of trust between cultures. We can all be responsible for cultivating better intercultural social relations in our communities. Through better cultural understanding grievances can be handled, aspirations can be nurtured, and the benefits of intercultural creativity can be harnessed.
The roundtables are aimed at engaging with the UK's core cities, its key organisations, and grass roots communities, to bring about a co-ordinated effort to build strong intercultural relations amongst its citizens. The first roundtable is being launched in Birmingham on 7th April and will be opened by Cllr John Clancy, Leader of Birmingham City Council. It's a unique opportunity to bring together Birmingham's City, Corporate and Cultural Leadership with local Social Innovators, national government and arbiters of interculturalism. The aim of the roundtable is to co-create solutions to bridging cultures in the public spaces of the city.
Cultural diversity has the potential to bring creativity to the economy that remains untapped. As cities consider ways to drive growth, Bridging Cultures provides one solution that focuses on inclusive growth – engaging all members of society to be productive and entrepreneurial. This open and honest discussion will pose the question: What social innovations can better deal with socio-cultural disadvantage, raising aspirations, and harnessing the benefits of intercultural creativity? How can the public spaces of the city be better designed to bridge cultures?